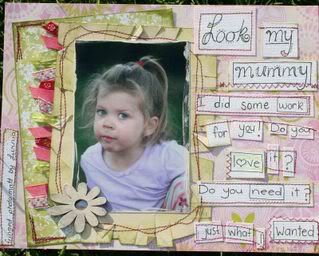 LSBS
have just announced their new design team members and i am sooo excited cause my best friend Helen is joining the team! How cool, to have your bestie on the same DT! Whooo Hooo, we are going to have fun.
Check out the fringed photo matt! My beautiful Livinia did it for me! LOL! she snuck away with some scissors and grabbed a piece of cardstock and then presented it to me. Her words were "Look my mummy, I did some work for you, do you love it? do you need it?" WEll what could I say of course I needed it and proceeded to do this layout on the spot. i LOVE it - just because Livinia helped create it. What a clever girl.
We still have one week of the school holidays left, which I love. The kiddies are staying with mum and dad at the moment for a couple of nights so J and I have been enjoying some piece and quiet. We went to dinner last night and to a movie. Did some chirstmas "shopping" today, it is sooo hard to work out what the kids will really really use and enjoy. Hopefully we got it right.
I also got my first assignment back from TAFE today and was happy with a very credible 80%, not bad for a girl who hasn't studied since school.
Thats all really,
Lisa
x