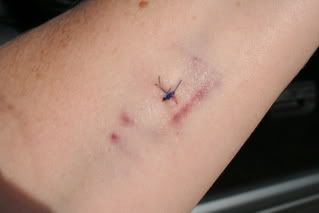 **edited to show you the actual damage!, bruising just starting to come out!**
You really have to excuse my typing tonight, you see i am doing it one handed! Yep there is a story and here it is!
Well, it was day three at the paper festival at penrith and we arrived at the stand nice and early to get ready. It was about 8am and gill, helen and myself were busy getting organised. I needed something from my new AMM little tote, i reached under the desk into the tote and felt a bit if pain. I knew exactly what i had done, i knew i had stuck my arm straight onto my craft knife (with a brand new blade!), i pulled out my arm thinking, bugger where am i going to get a banaid from and to my horror my arm was covered in blood. Hmmmm, in fact it was spurting **not good**.
I managed to get helens attention, without falling on the floor and before i knew it I was surrounded by some very lovely ( and thankfully first aid trained people). They managed to get my arm wrapped and into a sling and the wonderful Michelle took me off to the local doctor. You guessed it, I had managed to hit the artery in my arm (on the underneath side). Ater waiting for an hour so the blood would stop spurting I am now the proud owner of one stitch, a ver deep wound and a very sore arm! I also got a tetnus needle for my trouble!
This post is sooooo long! sorry.
A few quick thankyou's
To michelle, for staying with me when they stitched it up
To helen, for not passing out beside me!
To cath, just for being so understanding
To all the LSBS girls who are probably all laughing hysterically now!!! LOL
Lisa
xx